The Promise Fellowship Program seeks to empower high-achieving, first-generation college students from low-income households to pursue advanced degrees at UC Santa Barbara. The program builds upon the already successful Promise Scholars undergraduate program and aims to increase graduate student diversity by providing a pipeline for our diverse undergraduates. The Promise Fellowship Program will provide financial support for Promise Scholars for both master's and doctoral programs at UC Santa Barbara.
Fellowship Program Features
Promise Scholars may apply for a Promise Fellowship at the same time that they apply to a graduate program at UC Santa Barbara.
Promise Fellows will be paying their gift forward by serving as role models and mentors for our Promise Scholars. As part of the requirement for receiving the fellowship, Promise Fellows will be responsible for organizing a workshop for Promise Scholars about applying for graduate school and building a successful resume.
Image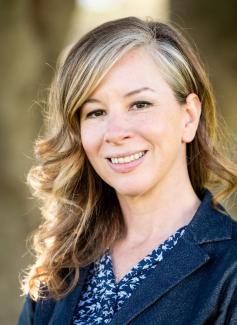 "It is heartbreaking when our students are successful at the undergraduate level, but cannot go further in their academics because of expenses. Our low-income, first-generation, and underrepresented students must clear many hurdles to achieve a bachelor's degree. The Promise Fellowship shows our Promise Scholars that they have an opportunity to continue their education. Now, when I share the Promise Fellowship program with these students in their junior and senior years, I can see their eyes instantly light up. As a result, they start dreaming bigger by taking on research and internships and visiting faculty during their office hours, all in the belief that graduate school is now within their grasp."
— Dr. Holly Roose, Program Director, UC Santa Barbara Promise Scholars Program
Fellowship Award Details
Selected Promise Scholars are able to pursue master or doctoral degrees at UCSB and apply for the fellowship at the same time that they are applying for graduate study.  
Supporting Master's Students
Selected students will be able to pursue professional degrees such as the Master in Education with a teaching credential, Master in Data Science, and Master of Technology Management. Other degree options include an MS in Computer Science, MA in Global Studies, and MFA in Art. 
A $25,000 donation will be matched by $15,000 in funding by UC Santa Barbara to provide a full fellowship of $40,000 per year (maximum of 2 years).
1M will fully endow a Promise master's fellowship.
Supporting Doctoral Students
Fellows can pursue any of UC Santa Barbara's diverse disciplines, with top doctoral programs in engineering, the sciences, social sciences, humanities, education, and the arts.
The Fellowship is combined with a fully funded fellowship support package of five years, funded by the fellow's department, a central fellowship, or a combination of both.
Students will receive full summer funding of $8,000 for their first three summers in order to conduct independent research, free from the burden of taking on part-time employment.
A $15,000 pledge, payable over a period of up to 3 years, will be matched by UC Santa Barbara's commitment to full academic year fellowship support for five years, in addition to the Graduate Division's $9,000 in matching support, to provide an incredible opportunity for the selected doctoral student.
Deadlines for the upcoming cycle of nominations are announced annually by the Graduate Division.
Building on the Promise
The Promise Fellowship Program was launched in December 2021, with two fellows in its inaugural 2022-23 cohort.
As part of the Graduate Division's dedication to fostering diversity in graduate education, UC Santa Barbara's Promise Fellowship Program provides the promise of full support for graduate school to the students who are selected.
Alexandra Seros and Walter Ulloa are among the program's founding donors:
"UCSB's Promise Fellowship is an opportunity for all students to reach their academic potential—no matter their economic, gender, or immigration status — no one is left behind," Seros said. "It has been Walter's and my experience that these students are always extremely intelligent, talented and motivated; valuable contributors both to California and to the U.S. overall."
Image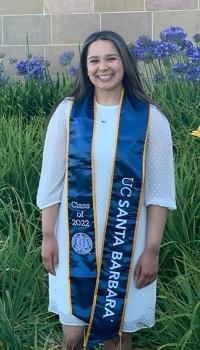 Elena Barragan MEd `23 (Teacher Education Program, Gevirtz Graduate School of Education)
2022-23 Seros Promise Fellow
Elena Barragan completed her associate's degree at Santa Barbara City College only to realize she couldn't afford to transfer to UCSB — until she received the Promise Scholarship. The Promise Fellowship will be equally transformational for Barragan, covering her costs as she works toward a master's in education and a teaching credential.

Without family financial support or an income level that makes graduate school feasible, the Promise Fellowship, Barragan wrote in her application, will "enable me to thrive at a graduate level so I can give back to this community by fulfilling my lifelong goal of becoming an elementary school teacher."

Barragan graduated with her master's degree from the Teacher Education Program (Gevirtz Graduate School of Education) in 2023. She is currently applying to work in school districts in Orange County and Riverside.
Image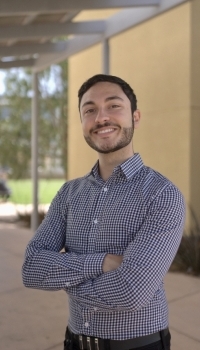 Michael Zargari MEDS `22 (Bren School of Environmental Science & Management)
2022-23 Putnam Promise Fellow
"This fellowship to me means that UCSB is determined to bridge the gap to higher education for first-generation, low-income and underrepresented groups," said Zargari, who as an undergrad founded and co-chaired the Promise Scholar Advisory Board. "This allows me to focus completely on my classes without having to constantly worry about taking out loans or working multiple jobs in order to stay afloat."

"Just as the Promise Scholarship enabled me to get heavily involved and give back to my community during my undergraduate years," Zargari added, "I plan to utilize this new aid as a Promise Fellow to do the same during my graduate years as well."

Zargari graduated with his Masters of Environmental Data Science degree in 2022. He now works at Wells Fargo in Charlotte, North Carolina.
For questions about the program, please send your queries to John Lofthus, Assistant Dean of Development at the Graduate Division.