The Academic Research Consortium (ARC) Summer Program provides mentored research experiences in all disciplines to undergraduates at the junior level and graduate students at the Master's level who are seeking to gain experience and prepare for doctoral programs at UC Santa Barbara. ​ARC targets talented and motivated students from Hispanic Serving Institutions who can benefit from additional academic support and career development.​
Interested in joining the Academic Research Consortium Program as a scholar or mentor?
Contact Walter Boggan, Director of Admissions, Outreach, and Diversity Initiatives.
The application deadline has passed. Bookmark this page for more information for next year's application cycle.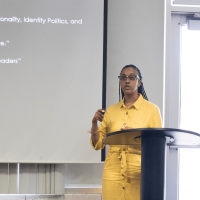 ARC Scholar Spotlight
Porscha Rayon Singh participated in the 2019 ARC Summer Program where she focused on her research project titled "'Oh, no you didn't!' The Visual Ideological Analyzation of the Angry Black Woman on TV and the Mentality Effects on African-American Women" which examines the use of the Angry Black Woman (ABW) trope in U.S. television shows. She is pursuing her BA in Film, Television, and Media Studies at California State University-Dominguez Hills.
"I demonstrate the power behind the single narrative, which typically depicts African-American women in this way, and also show how the use of this trope across media representations marginalizes African-American women."
The ARC Summer Program fosters and supports students in scholarly research endeavors to help them achieve their personal and professional goals as undergraduates and to prepare them for their next challenge.
ARC Scholar Activities
Once chosen as an ARC Scholar, the student embarks upon a 7-week summer program of research and graduate school preparation guided by UC Santa Barbara's Graduate Division staff, faculty, and graduate student mentors. Scholars are matched individually with UCSB faculty and graduate student mentors who provide training and support. Scholars are provided with an excellent opportunity to explore their discipline, experience research, and improve their opportunities for future study in their chosen field.​
Program Offerings
A 7-week summer research experience from June to August
$4,000 summer program stipend
Housing accommodations: Non-UCSB students are accommodated in University Housing; UCSB students receive $1500 housing stipend
Weekly academic enrichment and professional development workshops
Participation in end-of-summer symposium to present research work
Preparation for the Graduate Record Examination (GRE)
Eligibility
U.S. citizens or permanent residents
AB540 students are eligible to apply
Enrolled at a Hispanic-Serving Institution (HSI) in California
Priority consideration:

Groups underrepresented in higher education
Students from economically/educationally disadvantaged backgrounds
First generation to attend college
Non-traditional students
Individuals who have faced life challenges

Completion of at least the junior year by June 2023, or be enrolled as a Masters student
Minimum cumulative GPA of 3.0
Expectations
Applicants are expected to list two UC Santa Barbara faculty members with whom they are interested in conducting research during the ARC Summer Program. Information about UC Santa Barbara faculty members can be found at their respective department websites. We would suggest contacting your prospective mentor to ask if they are available to take students.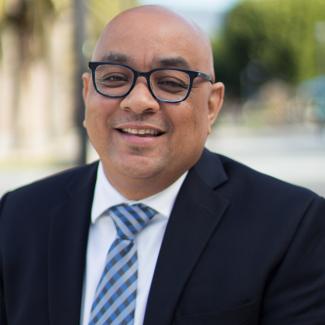 For questions on faculty selection, please contact:
Walter Boggan
Director of Admissions, Outreach & Diversity Initiatives
summerprogram@graddiv.ucsb.edu