The Divisional Deans and the Graduate Division support the Racial Justice Fellowship, a program designed to help recruit students whose research and teaching interests, mentoring experiences, and/or other demonstrated commitments are focused on racial justice.
Fellowship Award Details
The Racial Justice Fellowship gives awardees a stipend of $8,000 for the first three summers following each academic year. The Fellowship is combined with a fully funded fellowship support package of five years, funded by the student's Department, a Central Fellowship administered by the Graduate Division, or a combination of both.
The Racial Justice Fellowship is open to incoming graduate students in any discipline. The Racial Justice Fellowship will continue to be awarded via a central competition, as was the case in its first two years. Incoming students can be nominated by their Department for the annual competition for this support.
Deadlines for the upcoming cycle of nominations are announced annually by the Graduate Division.
Since its launch in fall 2020, the Graduate Division has awarded ten graduate students the Racial Justice Fellowship. 
All awards are supported by a cross-collaboration among academic divisions and support from private donors. 2021 Fellows Ricardo Delgado Solis (Chicana/o Studies) and María Guadalupe Romo-González (Gevirtz Graduate School of Education) received support from the Manitou Fund, while Connie Frank supported Hinojosa's award. Additionally, the Zegar Family Fund helped fund fellowships for 2021 fellow Bri Reddick (Feminist Studies), and current awardee Humberto Flores.
Image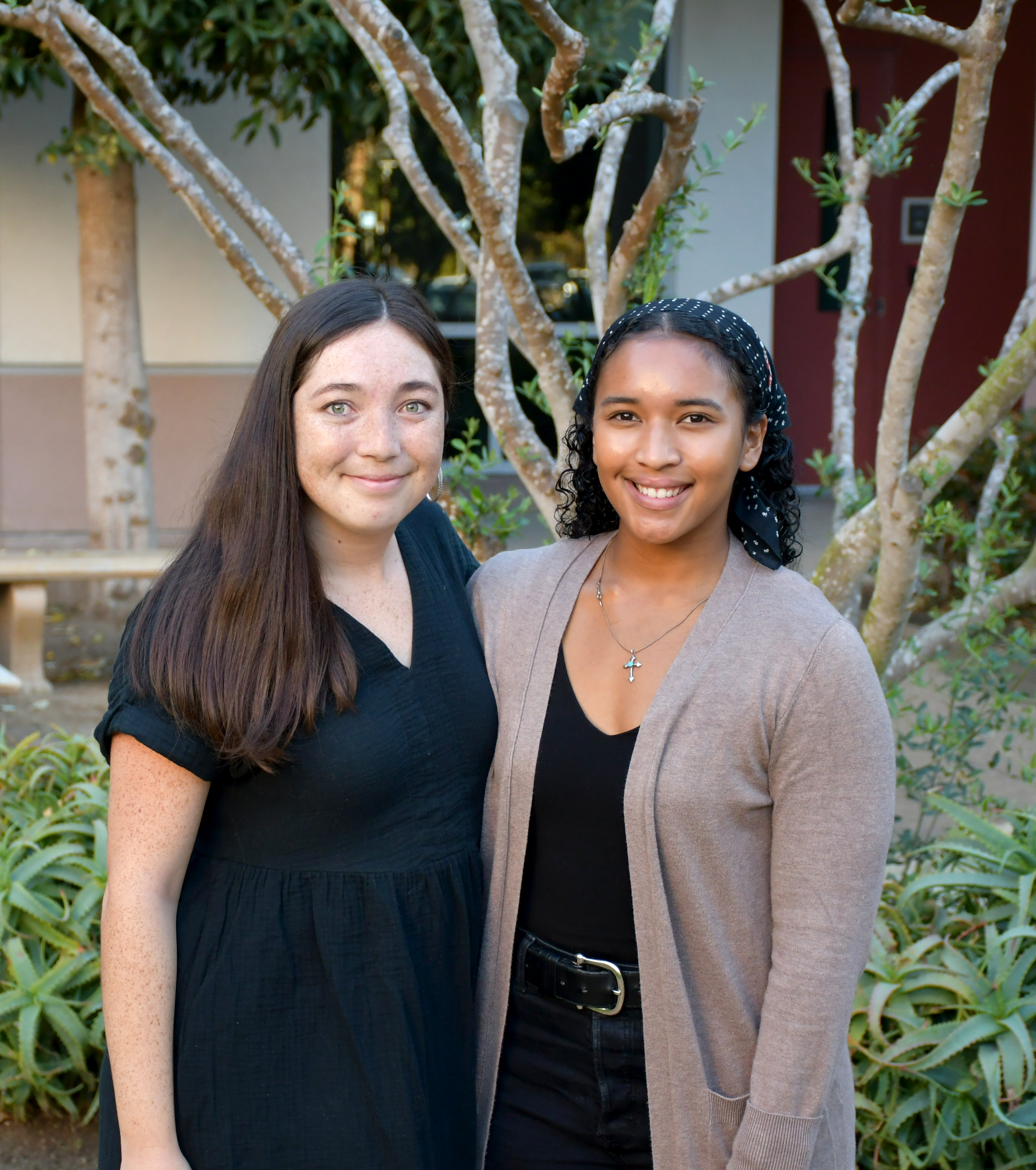 Maria Guadalupe Romo-González
and Gaby Hinojosa
2020 Racial Justice Fellows
PhD Students
Gevirtz Graduate School of Education
Photo credit: George Yatchisin
"I had the privilege of working on several continuing projects that have challenged me to think critically about pressing issues, particularly those affecting immigrant-origin students and families," she said. "Thanks to this fellowship, I was able to spend my summer developing research ideas for my second-year project and working on a project with my advisor where I was able to conduct interviews, begin coding and analyzing interviews, and develop reports with initial survey findings to share with stakeholders. I look forward to continuing my research journey at UCSB and connecting with other fellows as this program expands!" -- María Guadalupe Romo-González
"Fighting racial injustice can sometimes feel like a daunting task, one that can oftentimes feel lonely and unbearable. We are constantly met with resistance from others about how we should perceive racial injustice and our thoughts and beliefs are often discredited. I remind you to focus on the task at hand. Contribute to research that helps marginalized populations have a voice. This is our version of fighting against racial injustice – and never look back on those who do not support our personal experiences or endeavors." -- Gaby Hinojosa
For questions about the program, please send your queries to Walter Boggan, Graduate Director of Admissions, Outreach, and Diversity Initiatives.